The PyeongChang Olympic Winter Games continued on Day 10.
OAR (Olympic Athlete from Russia) curler Alexander Krushelnitsky was charged with a doping offence after he tested positive for meldonium. Krushelnitsky's B sample will be tested, but his mixed curling bronze medal he earned last week will likely be revoked if the sample is positive.
Bobsleigh
At the Olympic Sliding Centre, 2-man bobsleigh Heat 3 and Heat 4, the final two heats in Olympic competition, were held. Women's Official Training Heats 5 and 6 were also held.
The medalists are as follows:
Gold: Canada (Justin Kripps and Alexander Kopacz)
Gold: Germany (Francesco Friedrich and Thorsten Margis)
Bronze: Latvia (Oskars Melbardis and Janis Strenga)
Illustration: Molly Yu
Curling
Men's and Women's Curling continued with Men's Round Robin Session 9, and Women's Round Robin Session 8 and 9. In Men's, Sweden currently leads the standings, followed by Switzerland and Canada, the latter of whom has lost three games straight. In the women's standings, South Korea is in first, with Japan in second and Swede in third. Canada is in sixth. There are still three more sessions in both Men's and Women's Round Robin before the top four teams in each move on to the playoffs.
Image: Canada's women's curling team. (Image courtesy of World Curling Federation/Curling Canada/Michael Burns)
Figure Skating
Figure skating continued on Day 10 with ice dance, the third of the four figure skating disciplines to be competed at the Gangneung Ice Arena. Canada's duo of Tessa Virtue and Scott Moir won the short dance, scoring 83.67 to break their own world record. Behind them were training mates Gabriella Papadakis and Guillaume Cizeron of France, who managed to claim second in the short dance despite a wardrobe malfunction. The American pair of Madison Hubbell and Zachary Donohue, who also train with the latter two couples, currently sits at third, almost four points behind the French, but with a narrow 0.02 lead over fellow Americans Maia and Alex Shibutani. The free dance will be competed on 20 February.
Image: Tessa Virtue and Scott Moir broke their own short programme figure skating record. (Image courtesy of Mladen Antonov/AFP/Getty Images)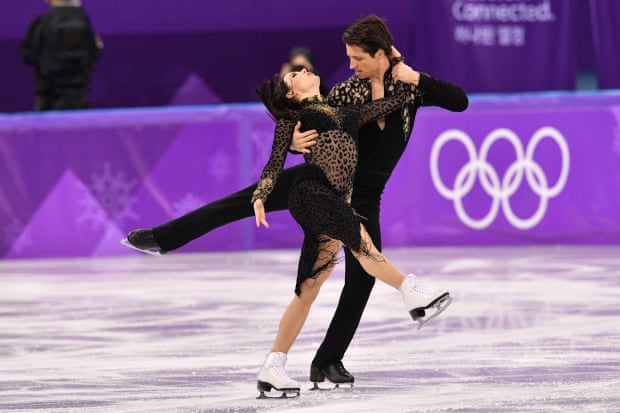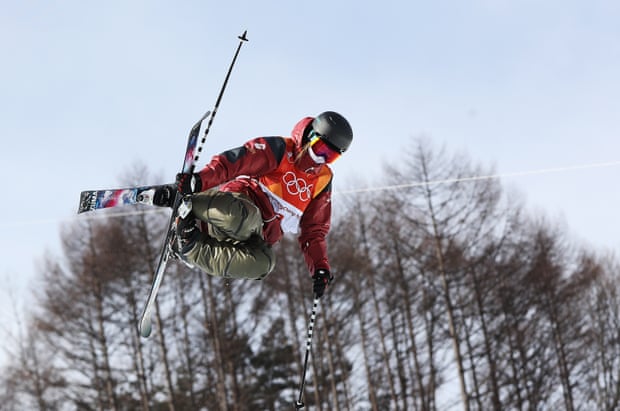 Freestyle Skiing
Ladies' Ski Halfpipe began on Day 10 with qualifications held at Phoenix Park. After the two qualification runs, Cassie Sharpe of Canada leads with a score of 93.40, meaning she will compete last in finals on 20 February. France's Marie Martinod is in second after scoring 92.00 and USA's Brita Sigourney is in third with 90.60.
Image: Canada's Cassie Sharpe qualified first. (Image courtesy of Ian MacNicol/Getty Images)
Ice Hockey
Women's Hockey playoffs continued with the semifinals on Monday 19 February. Held at the Gangneung Hockey Centre, the semifinals pitted the American women against the Finnish team, and the Canadian team against the OAR. The USA and Canada prevailed in their respective matches, both with a score of 5 to 0. The USA and Canada will face off for the gold medal on 22 February. Classification matches for fifth through eighth will occur on 20 February, and the OAR and Finland will compete for the bronze medal match on 21 February.
Image: Canada beast OAR, earning a place in the finals against USA. (Image courtesy of Matt Slocum/AP)
Ski Jumping
At the Alpensia Ski Jumping Centre, the men's team trial round, the first round, and the final round of the competition were held. By winning the event, Norway secured their twelfth gold medal of the Games. The medalists are as follows:
Gold: Norway
Silver: Germany
Bronze: Poland
Image: The Norwegian team earned Norway its twelvth medal of the games. (Image courtesy of Olympics)
Snowboarding
The Ladies' Big Air Qualification Run 1 and 2 were held at the Alpensia Ski Jumping Centre. Anna Gasser of Austria dominated qualifying, winning by almost four points over Japan's Yuka Fujimori. Japan's Reira Iwabuchi sits in third, while Canada's Laurie Blouin, who overcame a severe training fall to win silver in slopestyle earlier in the week, qualified in fourth.
Image: Great Britain's Aimee Fuller fell twice during the qualification, ranking 25th. (Image courtesy of David Davies/PA)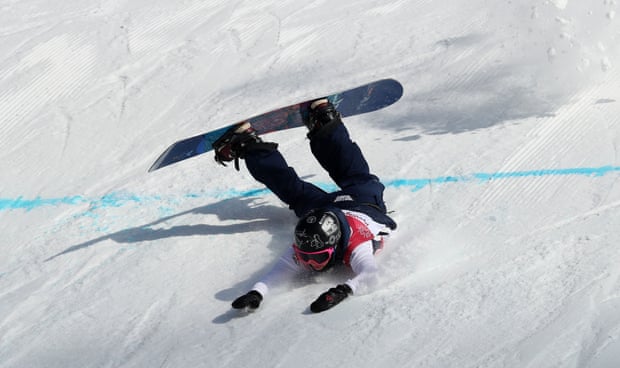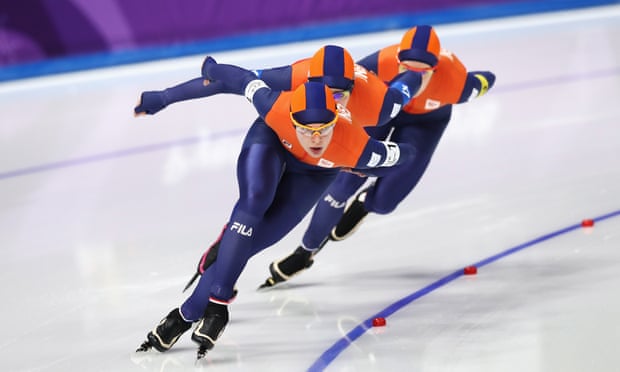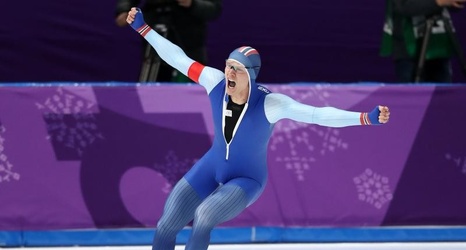 Speedskating
The Ladies' Team Pursuit Quarterfinals and the Men's 500m finals were held at the Gangneung Oval. In the Ladies' competition, the Netherlands placed first, Japan second, Canada third, and the USA fourth. In the upcoming semifinals, USA will be racing the Netherlands, and Canada will be racing Japan.
In the men's 500m finals, Norway's Harvard Lorentzen won Norway their 11th gold medal. The medalists are as follows:
Gold: Norway (Harvard Lorentzen)
Silver: Korea (Min Kyu Cha)
Bronze: China (Tingyu Gao)
Image (top): The Netherlands ladies' team set an Olympic record. (Image courtesy of Ronald Martinez/Getty Images)
Image (bottom): Harvard Lorentzen wins Norway's 10th gold, sending them to the top of the medal table. (Image courtesy of Ronald Martinez/Getty Images)